.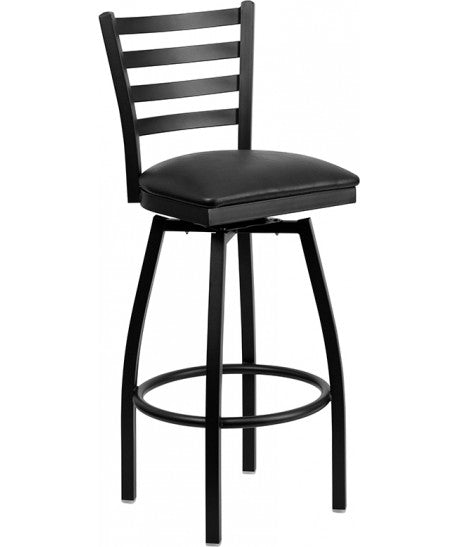 Hercules Ladder Back Swivel Bar Stool
Model #: Hercules-9
Dimensions: 16.50"w × 20.50"d × 44.50"h
Seat Height: 32.00"
Weight: 27.00 lbs
Construction: Metal
Finish: Vinyl or Wood
Color: Black or Burgundy in Vinyl / Cherry, Mahogany, Natural or Walnut in Wood
Hercules Ladder Back Swivel Bar Stool Black Vinyl allows guests to access the bar and bar height table at your shelter easily with a swivel barstool. Commercial furniture needs to be durable and low maintenance so metal barstools are a popular choice for furnishing fire stations and other high traffic establishments. This upholstered barstool is easy to clean, which is an important aspect when it comes to fire stations.
The seat is available in Black or Burgundy Vinyl or in Natural, Mahogany, Cherry or Walnut Wood. The chairs are shipped directly to your facility with the seats packaged separately, and only a simple seat attachment is required.